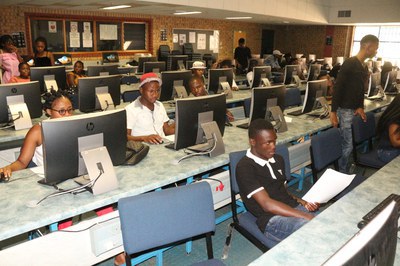 The first phase of the project to connect technical and vocational education and training (TVET) colleges in South Africa is nearing completion. The first phase of the TVET Colleges Connection Programme (TCCP) is the access portion of the project and involves connecting the TVET colleges to the South African National Research and Education Network (SANReN), the same network to which the 26 public universities are connected. Now the TCCP team are excitedly gearing up for the start of the second phase, connecting the campuses to Wi-Fi, for which site surveys have already been completed. The project team are also getting ready to go to market with the Wi-Fi Request for Quotations (RFQs).
A long road to get here
The team worked tirelessly through many causes of delay, particularly those stemming from the effects of the pandemic, to complete 219 campus connections, five in process of activation and a remaining seven with build in progress since the project started back in 2019.
While it has been a difficult road it has certainly been worth it. And the TCCP team has been heartened by the positive feedback they have received from their community.
Community feedback
Tshwane South College IT Manager, Isaac Photoane, had only positive feedback concerning the TCCP project. He was very happy with the smooth implementation of the project and the subsequent connection in terms of speed, reliability of the connection and of course, cost savings, all of which supports teaching and learning.
West Coast College Deputy Principal: Corporate Services, Andy Swartbooi, was, at the outset, a bit skeptical about the project, particularly in some of their rural campuses. But by the end he expressed his satisfaction with the TCCP connectivity. When SABEN visited the college last month, he said he was especially pleased with the impact it's making even at their rural campuses. "The transition is phenomenal," he said, and he is thrilled with the difference it's making for their college.
"Our experience with SABEN so far was brilliant. Even though there were a few technical hiccups at the beginning, their highly experienced technical team sorted it out in no time. We are looking forward to working with them in future and to get our other three campuses on the new infrastructure too," said False Bay College IT Manager, Shaun Pieterse.
And lastly, Mnambithi College IT Head, Sanjay Sew, said that they too are enjoying the benefits of the TCCP project especially in terms of the speed. It's what makes all the difference.
SABEN and the TCCP team are elated to hear all the positive feedback received from these colleges and are looking forward to delivering the next phase, the Wi-Fi project.