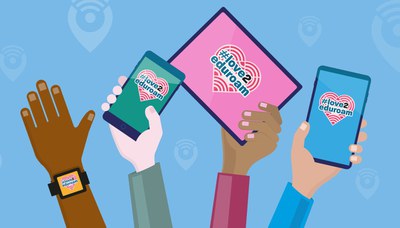 Health sciences is not a field that can be taught in the classroom alone. Most health sciences degrees, ranging from medicine (MBChB), physiotherapy and dental science, require hands-on experience, under the guidance of their lecturers, with real patients in hospitals and clinics. As students and staff work and learn in hospitals as much as they do on campus it stands to reason they should have the same access to the Internet at these sites. This is why TENET is working with the Western Cape Government, in an initiative driven by Stellenbosch University, to pilot the roll out of eduroam to key hospitals in the Western Cape.
The initial pilot project began in September of 2021 and included four hospitals selected by the Western Cape Government: Mowbray Maternity Hospital, Tygerberg Hospital, Groote Schuur Hospital and Khayelitsha Hospital. This initial pilot was considered a success, with positive feedback from both the academic side and the hospital administration. Plans are now underway to expand the pilot to other hospitals.
eduroam is the secure world-wide roaming service developed specifically for research and education. It means students of participating institutions, which is nearly all of South Africa's universities, can access the same high-speed Internet they enjoy on their campus at any eduroam access point. An eduroam connected device will simply connect automatically to an eduroam network anywhere in the world, using the saved credentials of your home institution.
"After the initial successful pilot of the four hospitals we went back to the four universities in the Western Cape: University of Cape Town, Cape Peninsula University of Technology, University of Stellenbosch and University of the Western Cape, to find out from their health sciences faculties which hospital and clinic sites should be prioritised for connection," says Guy Halse, head of trust and identity at TENET. "We've shared that feedback with the Western Cape Government's technology partners."
According to Halse the Western Cape Government has been very enthusiastic about the eduroam rollout as it takes the burden off their Department of Health to provide access to academic staff and students.
"These hospitals are connected to the Western Cape Government network, so the staff of the hospitals have Internet connection," explains Halse. "It is however onerous for the department to connect all the academic staff and students passing through. Connecting these hospitals to eduroam thus allows easy access for staff and students as they connect automatically."
Connecting Gauteng
TENET is also currently involved in very promising discussions, led by the University of the Witwatersrand (Wits), with the Gauteng provincial government.
While it is still in proposal stage, Gauteng's e-Govenment model could facilitate rolling out eduroam into provincial hospitals where academic staff and students work, as well as, much like the City of Cape Town model, connecting municipal public libraries to eduroam so university staff and students can use their local library to access the high-speed Internet of their institution.
Connecting South Africa's Colleges of Nursing to eduroam
In 2020 the Department of Higher Education and Training in South Africa recognised all nursing colleges as higher education institutions. For Halse this means a fantastic opportunity to get South Africa's various Colleges of Nursing connected to eduroam so that nursing students can also benefit from the high-speed Internet roaming service both at their campus and at connected hospitals.
"We have been in contact with the Western Cape College of Nursing," says Halse. "And as part of our conversations with the Gauteng Provincial Government we also reached out to the Gauteng College of Nurses about connecting them to eduroam at no additional cost to the colleges."
Expanding the eduroam footprint for the good of higher education in South Africa
TENET, as a non-profit company created by South Africa's universities to serve the interests of South Africa's universities, is actively looking for ways in which to expand the eduroam footprint as widely across South Africa as possible.
"All students need good quality Internet access," says Halse. "Every new site we connect to eduroam means more options for access for academic staff and students in that region. Based on trends in the global North WiFi roaming, such as the eduroam model, looks like it may become a norm. Already we saw in Kyoto, Japanwifi hotspots established in vending machines all around the city, and eduroam was included in those spots. In Africa, where the digital divide is so great, we should be doing everything we can to expand the reach of eduroam."
Halse points to the Research and Education Network for Uganda (RENU) who have done fantastic work connecting a range of sites across three cities in Uganda, with a metro eduroam footprint that now far surpasses South Africa's. And our public library model has been adopted in in Alberta, Canada and Victoria, Australia.
"The potential of eduroam in overcoming the digital divide for higher education is so powerful, says Halse. "Our goal is to partner with municipalities across South Africa to make eduroam access available at a range of public sites so our students who battle with high data costs don't have to travel far to access the high-speed Internet of their institution. This is not only possible, it is easier than people realise."