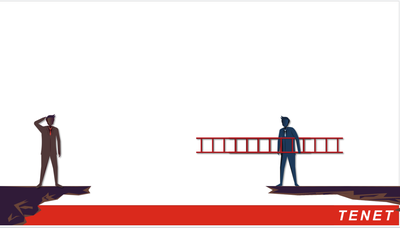 A National Research and Education Network (NREN), according to Wikipedia, is a "specalised internet service provider dedicated to supporting the needs of the research and education communities within a country". In most countries, the services provided by NRENs stretch far beyond merely providing connectivity. It is in these so-called 'above the net' offerings that we begin to see a widening chasm between services made available by NRENs in developed economies versus those in developing or emerging economies, to the extent that the research and education communities in the Global South are at risk of being left behind.
Speaking at TNC22, the research and education community's largest and most prestigious annual networking conference, hosted by GÉANT last month in Trieste, Italy, TENET's head of Trust and Security, Guy Halse addressed this issue. In a five-minute lightning talk entitled: Shouting across the chasm, Halse noted that in deployment maps of so-called global services often show very little implementation across Africa.
Innovation, he stressed, is a wonderful thing that certainly should not stop or slow down. But the problem is that the more innovation there is among established and well-resourced NRENs, and the greater the collective knowledge of the NREN community grows, the more difficult it becomes for new NRENs to catch up. Particularly because participation for Africans in global conferences and events such as TNC22 are a major challenge for a number of reasons, not least of which is cost of attendance and visa difficulties.
How to reach across the chasm?
To slowly close this growing divide Halse encouraged the audience of TNC22 to reach out to their colleagues from emerging economies to find out what kind of constraints they operate under, and how to make services and apps universally accessible.
An important example of this issue is the distribution of mobile phone use across the world. Your average Ugandan or South African students are not using the latest iPhone. Instead these students are using entry-level devices that cost around $35. These devices have a four-inch screen and 1GB of memory and use an entirely different operating system to what those in the Global North are used to.
"Android Go is a stripped-down version specifically for low-memory devices. And – here's the important bit – such devices are typically only sold in emerging markets," said Halse. "And then there's the "other" app store – the one that the Trump administration inadvertently created by imposing sanctions on Huawei."
"In North America about 1 in a hundred smartphones are made by Huawei; in Europe, it's about 1 in 20; and in Southern Africa, it's about 1 in 3. So when your developers forget – or likely don't even think about – putting that app in the Huawei AppGallery, they disproportionately affect the global South."
The reason this matters all the more in the Global South is that, certainly in South Africa, mobile devices are often the only way students can access the Internet when not on campus. This, argued Halse, makes it critical that the apps promoted by the NREN community work on all digital devices.
As emerging markets are also home to the majority of the world's population, education, research and innovation in these countries are critical to tackle the world's wicked problems. It is thus crucial to ensure the global NREN community is a truly global one, where collaboration is not only across regions, but also across GDPs.