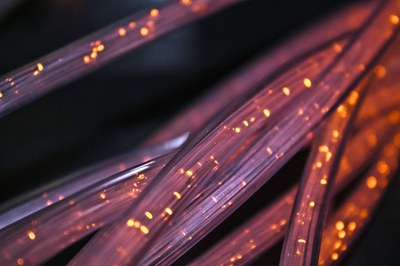 Technological advances and a shift towards more collaborative research means researchers are working with larger and larger datasets that need to be transported around the world in as little time as possible. If they are unable to do this, they will lose their competitive edge in the global world of research. For this reason, the South African National Research Network (SANReN) group, working with the TENET, have upgraded the South African research and education network from 10 to 100 gigabits per second (Gbps) bringing it on par with the network speeds offered in Europe and the USA.
In addition to this, in a move to ensure scalable and sustainable high-speed connectivity to research and education in South Africa, SANReN decided to directly acquire the dark fibre infrastructure which forms the foundation of the core backbone network.
"Dark fibre gives us the greatest flexibility to grow capacity to beneficiaries at the lowest future cost, while also ensuring that the beneficiary community has a long-term network solution in place," says Siju Mammen, head of network engineering at SANReN. "Now, we can easily upgrade our beneficiaries' uplink technologies or capacities without having to rely on suppliers to do so."
Dark fibre is the foundational infrastructure of the Internet, the unlit glass fibre strand that lies underground or overhead. This is different from a commercial fibre service in which the costs of building a working network over that fibre form part of a complete package that a consumer can purchase. While owning this infrastructure gives the SANReN/TENET partnership greater control and flexibility, it also means they are responsible for building up that dark fibre into a network that their beneficiaries can use.
Once the dark fibre is acquired, the next step is to add the optical transport equipment which builds light waves. It is through these light waves that the actual data is transported. From there, the existing routed network is upgraded from the current 10Gbps to 100Gbps. The final step is for the beneficiary institutions to upgrade their infrastructure accordingly to use this expanded capacity.
"Globally, national research and education networks (NRENs) are beginning to look towards 400Gbps and 1Tbps (terabit per second) circuits," says Shukri Wiener, senior network engineer at TENET. "What this acquisition of dark fibre means in practice is that once that technology is available, and there is a local need for it, it will be a relatively straightforward process to upgrade the network again."
The 100Gbps upgrade is already significant though, and it is a change that researchers will feel quite tangibly when their institutions upgrade their infrastructure according to the expanded capacity.
To put it into perspective, a good home Internet speed is around 20Mbps (megabits per second). A typical university main campus receives about a 10Gbps link.
"So in a nutshell, if you needed to transfer a 5 terabyte dataset on your home network, you would be waiting for several days. It would be close to a few hours on your average university's network, and a matter of minutes on the 100Gbps link from SANReN," says Mammen.
Understanding research and education networks
Bandwidth and connectivity needs for research and education are not only large, they are also unique in that they need large amounts of bandwidth for short bursts, often at short notice. This means the costs of commercial internet providers would be prohibitive for research and education, it would also not be viable for a commercial provider to maintain large-sized, fully-utilised network links, 'just in case'. For this reason, there exists a global network of regional research and education networks (RRENs), UbuntuNet in South-East Africa, GÉANT in Europe, and Asia-Pacific Advanced Network (APAN) in Asia and so on. Within these networks, each country is home to a national research and education network (NREN) which ensures both internal and external connectivity of research and education networks within that country.
"What this essentially means," says Wiener. "Is that we connect all the research and education institutions within South Africa onto a single network, and then we connect that network to the rest of the research and education networks around the world through a few international links."
The value of this for researchers is that NRENs are not usually profit-driven, so their priority is to build a network with as much capacity as possible to support research and education efforts.
"So when a researcher comes along with a massive dataset they need to transport, they can do so at optimal speeds and at significantly reduced time than it would take to physically 'ship' the data via hard drives," says Wiener.
South Africa's national research and education network is a collaborative effort between SANReN, which falls under the umbrella of the Department of Science and Innovation (DSI) as part of the National Integrated Cyberinfrastructure System (NICIS), and TENET, which is a non-profit private company formed by the research and education institutions themselves, and accountable to them.
The two entities collaborate closely to build and support the South African NREN as a research, education, and innovation platform, that includes the acquisition of infrastructure such as dark fibre and the provisioning of support services.
"South African involvement in major international research collaborations like those in bioinformatics (H3Africa), the Square Kilometre Array (SKA), the various experiments conducted by the Large Hadron Collider at CERN, and more recently, the international push to develop a COVID-19 vaccine, all rely on access to a high-speed, high-quality research network," says Dr Molapo Qhobela, former Chief Executive Officer at the National Research Foundation, and chairperson of the TENET board.
"There is often no recognition, or even knowledge of, the remarkable work done by TENET and the SANReN group to provide our researchers with these world-class network speeds with the resources of a middle-income country. These are our invisible heroes of research. "