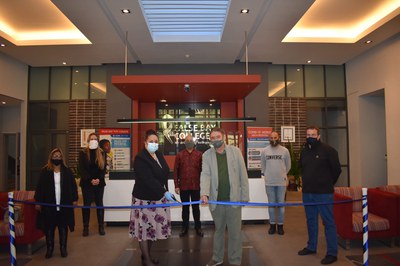 The TVET Campus Connection Programme (TCCP) is providing access connectivity of the Technical and Vocational Education and Training (TVET) colleges to South African National Research and Education Network (SANReN) backbone. This connectivity will provide 200Mbps upload and download speeds with no data shaping or limitation.
SABEN is excited to announce that False Bay College's Fish Hoek campus is the first TVET College campus to go live on 17 June 2020. The campus was originally planned to go live with their new connection in March 2020, but the COVID-19 lockdown was announced and all work had to be halted. The project started to gain momentum again in May 2020 and after weeks of technical challenges, including equipment swap out, with input from vendors, the College's technical team and the TCCP team, the testing results were successful and the site could go live with their new link.
Shaun Pieterse, IT Manager from False Bay College says "Our experience with SABEN so far was brilliant. Even though there were a few technical hiccups at the beginning, their highly experienced technical team sorted it out in no time. We are looking forward to working with them in future and to get our other three campuses on the new infrastructure too."

The provision of SANReN access to TVET colleges and their component campuses will facilitate access to comprehensive information, research and educational resources, to help these institutions manage their current capacity shortfalls more effectively. The project will give invaluable support to learners through Internet access and knowledge resources that they need to study and graduate, empowering them to develop and hone the increasingly important skills that are required in the job market.
Currently, the TCCP team are planning to roll out access connections to the following TVET Colleges during the third quarter of 2020 and preparations are underway: West Coast TVET College, Eastcape Midlands TVET College, South Cape TVET College, Buffalo City TVET College, Lovedale TVET College, Majuba TVET College, Capricorn TVET College, Ehlanzeni TVET College, Lephalale TVET College, Letaba TVET College, Nkangala TVET College, Waterberg TVET College, South West Gauteng TVET College, Tshwane South TVET College, Flavius Mareka TVET College, Goldfields TVET College, Sedibeng TVET College and Vuselela TVET College.