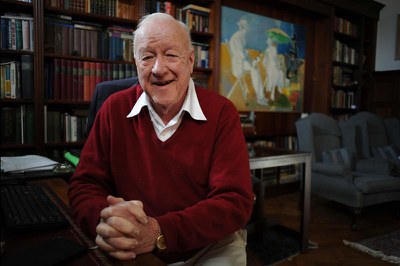 Dr Stuart Saunders, who passed away peacefully in his sleep at age 89 on 12 February 2021, was a giant in the South African higher education and research landscape. Following an illustrious career as a physician and medical researcher, he served as UCT's vice-chancellor for 12 years from 1981 until 1996. In that time he actively opposed the unjust apartheid state by, among other things, opening UCT residences to students of all races. His work continued well after his retirement and it was in his retirement years, in the year 1998, that Saunders was asked by a group of South African university vice-chancellors to lead a project to provide Internet bandwidth to South African universities. A project that resulted in the formation of TENET.
"Dr Saunders played a vital role in the founding of TENET," says current TENET CEO, Duncan Greaves.
"It is indeed safe to say that, but for the impetus which he imparted to the process of creating TENET, it would not have come into existence. His vision for an organisation that would serve the common internetworking requirements of the higher education sector was an inspiration to all who worked with him during the formation of TENET, and his insight and judicious good sense were often critical at delicate stages in the negotiations that led to its creation."
In addition to the request by the university vice-chancellors, Saunders had also been asked by the Andrew W. Mellon Foundation, who had invested in the computerisation of university libraries, to investigate the high costs of bandwidth for universities in South Africa.
He established a task team to investigate options. Leading the task team was Dr Duncan Martin, who was Director of Information Technology at UCT at the time. The task team decided to form a non-profit company with its first directors appointed by the South African universities and technikons (technical colleges, which have since either merged with universities or been renamed as universities of technology).
The newly formed board then appointed Saunders as chair and Martin as the first employee and CEO of the Tertiary Education Network of South Africa (TENET). TENET was incorporated on the 22nd August 2000.
"Dr Saunders showed remarkable leadership and tenacity in this role as the first chairperson of the TENET board," says Martin, who worked closely with Saunders in those early years of TENET. "He led the organisation through complex negotiations with Telkom, which in those days had a complete state-sanctioned monopoly on the telecommunications market. Those negotiations resulted in an agreement for significantly lower rates for bandwidth for SA universities."
"It was his experience, his drive and his determination that helped us break through the many barriers which existed in the creation of TENET and the drive to provide affordable Internet bandwidth to universities," says Martin. "This was in a time when even those who managed the universities did not fully comprehend the importance of Internet access for research and education."
Says Dr Jim Leatt, former head of the Adamastor Trust (today the Cape Higher Education Consortium), co-founder of TENET and deputy chair of the first TENET board: "It was Stuart Sanders' gravitas here and abroad that enabled the meeting of executives of Telkom and other US donor organisations which led to the building of an affordable internetworking solution for higher education."
"TENET records an immense debt of gratitude for his contribution and honours his memory," says Greaves. "In addition to his role in founding TENET he also, through his association with the Andrew W. Mellon Foundation, encouraged TENET to extend itself into a capacity development role that it sustained for over ten years."
"It seems unlikely that our research and higher education institutions would enjoy the quality of networking bandwidth they have today if it were not for TENET and the formidable Dr Stuart Saunders," says Dr Molapo Qhobela, current TENET chairperson and former CEO of National Research Foundation (NRF). "He was both a visionary and a force to be reckoned with in the South African higher education sector, and I am proud to serve as chairperson, 21 years later, in the organisation he formed."