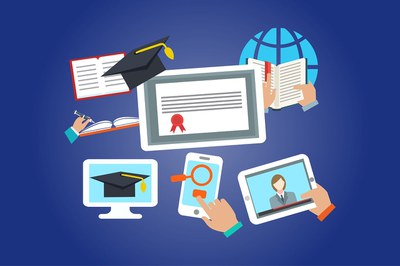 When President Cyril Ramaphosa first addressed South Africa on the COVID-19 crisis in mid-March 2020, TENET had already begun preparations for the potential closure of universities and a possible national lockdown. Now, nearly three months later, South Africa is in level three of the phased, risk-adjusted, easing of the lockdown. While this means some relaxation on regulations, universities are planning a phased return to contact teaching, and for the majority of the country's students, the 2020 curriculum will be completed online.
The radical shift of way of life in these weeks of global pandemic and national lockdown has kept the TENET team very busy, providing support as and when needed by our university community.
Here's what we have been up to.
Negotiating data relief for university staff and students
"One of the consequences of spatial inequalities in South Africa is that when the universities closed, many students went from access to high-speed Internet on campus, to being reliant on a cell phone with high data costs," says Guy Halse, head of trust & identity at TENET.
Fortunately, before the lockdown was even announced, TENET began working with Universities South Africa (USAf) and mobile network operators to, among other things, negotiate zero rating to provide free access to online teaching and learning websites for students of all South African universities.
Guy and TENET CEO, Duncan Greaves, first served on the USAf task team, and then the inter-ministerial task team between the Departments of Higher Education and Training and Communications and Digital Technologies, to investigate the technology challenges associated with emergency remote teaching. This task team is looking at solutions for the entire post-school education and training sector.
This task team has seen some real successes. They negotiated with mobile network operators to offer subsidised data packages to all National Student Financial Aid Scheme (NSFAS)- funded students for three months starting from 1 June 2020. The next step is to make educational data bundles available to all NSFAS-funded students to pay for additional content not covered through zero-rating agreements.
"Zero rating is a highly technical issue, more so than people understand," explains Guy. "Navigating the differences between what universities would like and what mobile network operators are technically able to do has been complicated."
Challenges aside, the project has been largely successful. Across the country universities have begun their second semester online and students have access to a range of teaching and learning materials offered by their university without incurring data charges.
"It remains tricky, largely because of the size of the sector," says Guy. There are nearly thirty thousand schools and campuses that form part of the project. Due to all these complexities, negotiations around certain details are likely to continue for months.
Getting online
TENET has also been heavily involved in helping universities navigate emergency remote teaching, as well as keeping day-to-day activities going. Across the country, staff and students used to face-to-face meetings were, all of a sudden, working from home and had to adapt quickly to technology they were not used to.
"In November last year we began a pilot for the video conferencing software Zoom, and at first, there was not a lot of uptake," says Rifaat Emeran, service delivery manager at TENET. "Then, as universities closed, the demand exploded and we went from having a few hundred users in our pilot, to well over six thousand."
TENET negotiated sector-wide pricing for Zoom subscriptions for the higher education sector, using bulk purchasing power for a more favourable rate than universities would otherwise have received. Beyond that they have been facilitating licences, offering tech support, and even assisting with manual account creation.
Keeping the ball rolling
"During this crisis, our other work doesn't stop," says Duncan. "Our network engineering team has done a remarkable job maintaining the network while complying with lockdown regulations, which generally meant no site access."
The fact that there were no major outages during the lockdown is the result of a lot of proactive work in the form of maintenance ahead of the lockdown, in anticipation that it might happen.
Projects begun before the lockdown are also forging ahead. There are about fifty Technical and Vocational Education and Training (TVET) colleges in South Africa, which operate on over 360 campuses across the country. These TVET colleges have been struggling with connectivity for years. Earlier this year, TENET worked with their subsidiary, the South African Broadband Education Networks (SABEN), on a project called the TVET College Connect Project (TCCP) to end the bandwidth poverty at these colleges.
"The project was starting to gain momentum just as the COVID-19 crisis hit," says Helga van Wyk, TCCP project lead. "Despite the challenges presented by the lockdown, we need to make sure we have all the pieces in place so when we are able to continue the rollout of the access connections and the infrastructure for the TCCP, it can happen quickly."
Helga says the team is working on the TCCP knowing that in the COVID-19 world, network connectivity at these campuses is more important than it ever was.
"The COVID-19 crisis has seen a remarkable effort by the TENET team, a small team by international standards, to keep operational and deliver solutions above and beyond what would normally be asked from us," says Duncan. "I believe that in this time the TENET team have proved their worth to the higher education sector."