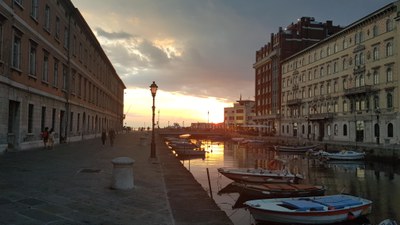 Research and education are global endeavours as students travel abroad on international exchanges and researchers collaborate on increasingly large data sets and huge research infrastructures. National Research and Education Networks (NRENs) exist to provide the infrastructure in terms of network, software and support to allow that collaboration to happen on the scale it does. Just as each research field forms an international community of close collaboration, so too is it important to have an international NREN community collaborating to adequately support research and education. This is why, with borders again open and gatherings by large groups of people deemed safe after the COVID-19 pandemic, TENET is pleased to have sent representatives to the research and education community's largest annual networking conference, TNC22, hosted in Trieste, Italy this year.
Maria Mvungi, Service Support Manager at TENET, attended TNC22, her first conference since joining TENET in 2021. For her, the importance of building an in-person relationship with colleagues across the world cannot be underestimated.
"We are often in contact over email or phone with our international counterparts," says Mvungi. "But meeting them in person to exchange ideas and experiences builds trust and allows for a more constructive relationship going forward."
Chance encounters at events like these also have led to wonderful initiatives, for instance the idea for the current role TENET plays as lead organisation in the South African ORCID consortium was born over exactly such a chance encounter at an international networking event. So too for eduroam and eduroam visitor access.
"And because we are often facing the same challenges, especially in the COVID-19 context and beyond, we don't want to be reinventing the wheel," adds Mvungi. "We want to work together to make sure solutions are more globally applicable, and can easily be tweaked to fit unique country contexts."
Different perspectives, better solutions
In his lightning talk at TNC22 TENET Head of Trust and Security, Guy Halse, addressed the issue of the growing digital divide among NRENs. But he stressed this is not an insurmountable problem, all that needs to happen is more dialogue between NRENs in richer countries with those in emerging economies.
"In many cases the solutions for greater global applicability of apps and service solutions could be simplified," says Mvungi. "It is about recognising that outside of the United States and Europe, other devices (such as Huawei phones) are very common, so the apps need to be available to those devices. Or in some cases it would be helpful if Application Programming Interfaces (APIs) exist for other common programming languages, allowing developers around the world to contribute to new features and configurations."
Mvungi says it was great to see colleagues from other African NRENs in Italy, and she looks forward to engaging with them further at events within the African continent such as UbuntuNet Connect 2022 in Botswana.
There are however challenges of access for NRENs in emerging economies, not just financial but also excessively complicated administrative procedures.
"To get the full value of a global NREN community meeting in person, we need to address the challenges of access faced by some," says Mvungi. "Otherwise we run the risk of losing valuable perspectives to build better solutions."
Networking to brainstorm and build
One of the biggest gains for Mvungi of in-person attendance is the networking element of the conference.
"There were of course so many fantastic talks that were inspiring and eye opening," she says. "And the real benefit of being there in person was that I could walk up to the presenter, perhaps the person who developed an app that we are deploying to our community, and pick their brain, maybe brainstorm together on a unique feature that would make the app work better in different contexts."
Then there is also the value of the unexpected relationships, colleagues who you may not come into contact with in your day-to-day work but where there are synergies and potential for greater networking.
Understanding the importance of NRENs in society
For Mvungi it was also great to be reminded of the importance of the work NRENs are doing. NRENs support the research and education community which plays a critically important role in shaping their countries and regions.
"Our role is to support this community, lobbying for better and cheaper services, but also listening to our university partners to understand their problems and then see how we can innovate to best support them," says Mvungi. "It was inspiring to hear talks from other NRENs to find out what they did to address the needs of their communities, and often these stories are the seed to growing our own unique solutions here in SA."