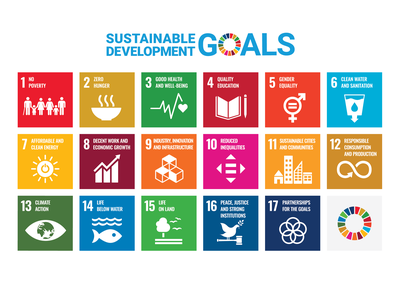 The so-called 'wicked problems' the global community is trying to tackle through the United Nations Sustainable Development Goals (SDGs) are often most keenly felt in Africa. There is a drive by African scientists to lead the charge in addressing many of the challenges outlined in the SDGs. While the work of national research and education networks (NRENs) like TENET are mostly invisible and behind-the-scenes, this does not mean NRENs do not have a part to play in the work to address the SDGs. AfricaConnect3, a project funded by the European Union, which works to support the creation, development and use of Internet connectivity for research and education communities in Africa, worked in collaboration with the wider African research and education community, to gather concrete examples of how African NRENs contribute to the SDGs.
Indirect contribution through the underpinning of research and education
International collaborations and data-intensive research both rely on the network infrastructure of NRENs for their success. Due to their very unique and complex needs, research and education cannot use the commercial Internet infrastructure available to homes and businesses. NRENs thus provide, among other things, the dedicated infrastructure which allows for high volumes of data to be transported globally in support of research. This infrastructure allows researchers to collaborate and conduct research, especially data-intensive research, faster and more effectively than could have been possible without the invisible service NRENs provide.
While this article focuses on the more direct impacts of the work of NRENs on SDGs, it is important to remember that little of the high-impact research taking place in Africa and globally to tackle the goals would be achieved in the same way if not for the behind-the-scenes services and support NRENs offer.
Goal 3: Good health and wellbeing
SDG 3, target 3 aims to "substantially increase health financing and the recruitment, development, training and retention of the health workforce in developing countries, especially in least developed countries and small island developing states.".
As students in the health sciences need practical hands-on experience as part of their training TENET undertook a project, beginning in 2021, to roll out eduroam to staff and students at four hospitals in the Western Cape of South Africa. This allows teaching staff and students to enjoy the same Internet access in these field sites as they do on campus.
Goal 4: Quality education
NRENS are critical to higher education, they provide institutions with affordable and reliable connectivity and services. The COVID-19 pandemic demonstrated the commitment of African NRENs to support quality higher education on the continent as nearly all went above and beyond to give students and staff access to their teaching and learning materials remotely.
Prior to lockdown TENET made significant strides in connecting the lesser-resourced Technical and Vocational Education and Training (TVET) colleges. In response to COVID-19 lockdowns TENET also played an important role in negotiating free access to online teaching for all university students and cheaper rates for Zoom during the COVID-19 pandemic.
Other NRENS in Africa, including ZAMREN (Zambia),SomaliREN (Somalia), MARWAN (Morocco) and CCK (Tunisia) played critical roles in the provision of online learning platforms to member universities, while others, including KENET (Kenya), SLREN (Sierra Leone) and RENU (Uganda) worked, through a variety of solutions, to provide easier off-campus Internet access.
A number of African NRENs are also responding directly to Goal 4.4 to "increase the number of youth and adults who have relevant skills, including technical and vocational skills, for employment, decent jobs and entrepreneurship."
This includes work by Nigeria's Eko-Connect, SomaliREN and WACREN (West and Central African Research and Education Network) facilitate the training of youth and adults, sometimes focusing on women exclusively, in relevant skills which translate into better opportunities.
Goal 5: Gender equality
Several NRENs and their member institutions provide equal opportunities to their students and personnel beyond the field of ICT. Through dedicated and focused training and mentorship programmes, they have been addressing the existing gender inequalities and worked to improve the opportunities available to women.
Much work has also been done for goal 5.2 to "enhance the use of enabling technology, in particular information and communications technology, to promote the empowerment of women". Significant examples of these are the practical training provided by Eko-Connect and WACREN through their workshops, courses and hackathons aimed exclusively at women and girls.
Goal 8: Decent work and economic well-being
Closely tied to their work in support of the quality education goal, the various training initiatives by NRENs across Africa increase the much-needed ICT skill sets on the continent, contributing to overall economic growth and also increasing the employability of those involved.
In addition to the training opportunities already mentioned the UbuntuNet Alliance offered online training during the pandemic. TENET staff were involved in these training activities, including facilitating some of the training, such as eduroam training in Botswana and federation training events offered by the UbuntuNet Alliance and RENU (Uganda).
The AfricaConnect project have supported the delivery of training courses through the project's partners as part of an overall strategy to build adequate human resource capacities and expertise within NRENs and MoReNet in Mozambique runs an ICT talent competition programme for university students, the winners of which get access to a paid internship programme, helping them onto the first rungs of the employment ladder.
Goal 9: Industry, innovation and infrastructure
SDG 9.1 seeks to "develop quality, reliable, sustainable and resilient infrastructure, including regional and trans-border infrastructure, to support economic development and human well-being, with a focus on affordable and equitable access for all". For this goal, the work of all NRENs are relevant. NRENs are communication networks with reliable and resilient infrastructure aimed at enabling better and inclusive access to digital technologies and Internet connectivity for all. Their work and services aid digital inclusion, economic development and the end users' well being.
Through their provision of more affordable Internet connectivity for research and education NRENs enhance scientific research possibilities and upgrade the technological capacities of their member institutions. There are several examples of specific scientific research and experiments that NRENs have contributed to through their connectivity and technology services: the Egyptian National Authority for Remote Sensing and Space Sciences (NARSS), the undersea ANTARES neutrino telescope, CERN ATLAS experiment and the Square Kilometre Array (SKA).
Partnerships for the goals
NRENs collaborate globally to ensure a research and education infrastructure that facilitates cross-border research collaborations. They actively seek international collaboration opportunities and exchanges so as to promote a global transfer of technical and operational skills and expertise. They also work across sectors, regularly collaborating in private-public, public or civil society partnerships.
Because of the collaborative and global nature of their work NRENs contribute to a number of the targets for goal 17, including target 6: to "enhance North-South, South-South and triangular regional and international cooperation on and access to science, technology and innovation." A great example is the 2021 agreement between Africa and Latin America to ramp up science activities.
"This initiative to describe the contributions made by NRENs to the Sustainable Development Goals is both heartening and inspiring," says Duncan Greaves, TENET CEO. "It shows us, when the will and the intention is there, what great impact relatively small organisations can have on the world's big problems."